Teal On The Hill Financial Assistance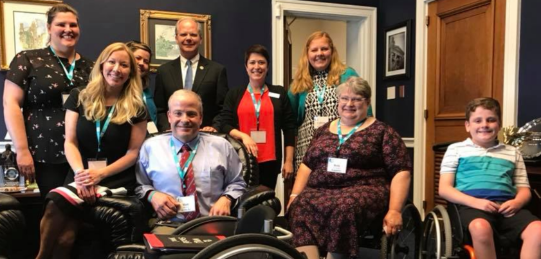 Join us and members of the Spina Bifida community from across the United States as we create a sea of teal on Capitol Hill, advocating for issues such as continued funding for the Spina Bifida program at the Centers for Disease Control & Prevention, disability rights, and affordable and accessible health care, medical supplies, and technologies. Please join us and become an advocate for a brighter future for people with Spina Bifida. Your voice matters!
At Teal on the Hill, you and others from your state or region will have the opportunity to meet with your Members of Congress and share your story. We will guide you through an advocacy training day that will prepare you for a powerful, meaningful, and fun day. 
Scholarships are available for corporate chapter members and adults with Spina Bifida. 
Corporate Chapter Scholarships
Corporate chapter scholarships are available only to applicants in the following states: CA, GA, ID, MD, MI, NC, NV, SC, TN, UT, VA, Washington D.C., WV, as well as the Greater Houston, TX Metro area.
Tom Baroch Memorial Scholarship for Adults with Spina Bifida
The Tom Baroch Memorial Scholarship will award 8 scholarships up to $1,500 each. Please note that this scholarship is limited to adults with Spina Bifida. Applicants from all 50 states welcomed. 
This event is open to the entire Spina Bifida community, including:
Adults with Spina Bifida, parents and/or caregivers, children*, grandparents, siblings, clinicians, friends, disability organizations
 *If you have a child under the age of 10, you can still bring them, we advise that you have a second caregiver or person there with you to assist with the child if need be. Our time on Capitol Hill is long, requires lots of walking, and some long meetings.
( Deadline for 2019 Teal on the Hill Applications is April 1st)
For Applications please contact:                                  
Mary Beth Long                                                                                       
859-268-5798                                                                               
 mlong@sbak.org
Completed Applications can be mailed: 
Shriners Hospital for Children 
Attention: Mary Beth Long SBAK
110 Conn Terrace 
Lexington, KY 40508
jEmailed to mlong@sbak.org
Please email or call us with any questions!
sbak@sbak.org or 502-637-7363
Please send FAF Conference Application to Mary Beth at mlong@sbak.org or mail it to:
Shriners Hospitals for Children
Spina Bifida Association of Ky
110 Conn Terrace 
Lexington. Ky 40508