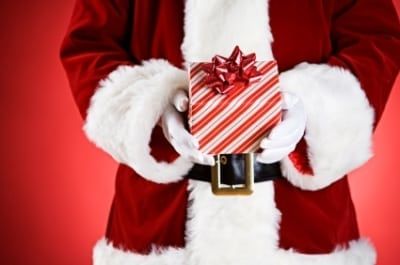 The Spina Bifida Association of Kentucky's Wish List consists of items that help us make our free programs and services possible.    If you or someone you know would like to help purchase any of these items, please contact us at 1-502-637-7363 or www.sbak.org.    Your help is greatly appreciated!
One of our favorite programs is our yearly Holiday Parties.  We offer these in several areas of the state as a huge celebration of our families! Every child receives a gift from Santa.  It is important to us that siblings are celebrated during these gatherings as well because spina bifida impacts the entire family.  Purchasing a gift for our holiday parties is super simple with Amazon.  Your gift will be delivered to our office to be distributed across the state.
Holiday Wishlist 
For many families, newborn outreach is our first point of contact with a family affected by spina bifida.  SBAK receives a referral from the hospital, alerting us that a baby has been born with spina bifida.  At that time, we reach out to the family and set up a visit to the NICU.  Staff and newborn outreach mentors (parents that have children with spina bifida) visit families in the hospital; bringing a welcome gift for the family and baby and much-needed information and resources. 
"For many, this happy and joyous occasion is also overwhelming and maybe a little sad.  At least it was for me.  I was so happy but also scared and sad and worried. It is so important to validate all those emotions, all anyone could ever hope for is a healthy baby, but when a baby is born with spina bifida there can be surgeries and an extended stay in the hospital away from your family.  I saw my 3-year-old daughter only twice in three weeks when her sister was born.  I was torn between two kids that needed me!"  (Newborn Mentor, Sarah)
We get it, our newborn mentors have shared those same experiences and this initial visit is the foundation for SBAK's ongoing support.
Newborn Outreach Wishlist